Carlo Curley
American Concert Organ Virtuoso

SATURDAY 7TH OCTOBER - 7.30PM

GREAT MALVERN PRIORY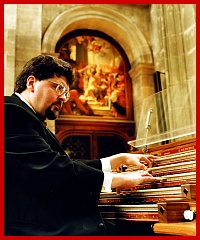 Carlo Curley is one of only a few artists in the world to give classical organ concerts and recitals, unsupported by a teaching or church appointment. His self-proclaimed mission is "to establish the organ at the forefront of musical instruments, even if it takes the rest of my life".
Born in America, he has performed, in both solo and orchestral contexts, in many of the major venues throughout the world, including Japan, Hong Kong, Australia, Scandinavia, South Africa, Russia and France, where he was one of only five world class recitalists invited to inaugurate the magnificent instrument at St Eustache, Paris. He has also given recitals on other great organs of Europe and in Britain, has been the guest of such major festivals as Edinburgh, Bath, City of London, Three Choirs, Henley, Windsor, Harrogate and Canterbury. Among his regular London engagements he is now proud to number the Royal Albert Hall, the Royal Festival Hall, Alexandra Palace, St Paul's Cathedral, St John's Smith Square and Westminster Abbey. Mr Curley was part of the inaugural series at the City of Birmingham, Symphony Hall and at the Esplanade Concert Hall, Singapore, both venues bearing ownership of fine, new Klais instruments.
His extensive North American tours, which now cover every state and province of the USA and Canada, include such major venues as New York's Carnegie Hall and Washington's Kennedy Centre. By special invitation of the President, Carlo made history by playing the first ever classical organ concert at the White House. He has now performed twice in the presence of the Princess Royal, has played before Princess Grace of Monaco (deceased) and given two Royal Command concerts for the Danish Royal Family. His unrivalled popularity also leads to his being invited to give literally hundreds of inaugural recitals in churches, schools and concert halls worldwide.
Carlo Curley's charismatic character inevitably finds its way onto television and radio. In Japan, where he tours regularly, and has toured there with the Kings Singers, he has made a series of networked programmes on NHK. In Britain, he made two guest appearances on BBC Television's Wogan Show, has been featured on such children's shows as Saturday Superstore, Going Live and What's That Noise, starred in his own television 'specials', contributed to an Omnibus documentary concerning the design, building and inauguration of a new organ and guested throughout a series with Dame Thora Hird (deceased).
Among his now innumerable British radio appearances, he has been castaway on Desert Island Discs, featured on Woman's Hour and Friday Night is Music Night, been the subject of a Radio 3 'special' and been interviewed by presenters such as Richard Baker, Brian Matthew, John Dunn, Derek Jameson, Gloria Hunniford and Sheridan Morley.
Carlo continues to broadcast regularly for the BBC; appearances have included spectaculars from Norwich, Lichfield, Gloucester, Ely and Belfast Cathedrals and Lancing College Chapel. His unfailingly popular Battle of the Organs concerts, which incorporate his four-manual touring organ, play to packed venues throughout the world; in the UK at Salisbury, Portsmouth, Birmingham, St Albans, and Winchester Cathedrals, Christchurch Priory, Amesbury Abbey and the vast chapel of the Royal Hospital School.
In America, his television and radio contributions range from chat shows to a major concert, broadcast live across the continent, from the Roy Thomson Hall in Toronto. His television special for CBC, Voices in the Wind, demonstrated the A to Z design and construction of a large modern instrument; organ design being another area of Carlo's specialised knowledge and enthusiasm - his recent design and consultancy commissions include Australia, Japan and North America. In Australia, his many television appearances include the Today Show (twice), the Steve Vizard Show and two appearances on the Ray Martin Show.
Born in 1952 into a musical family, Carlo's early training was taken in hand by his grandmother, a widely respected piano teacher. Subsequent teachers included Robert Elmore, Arthur Poister, the legendary Dr Virgil Fox and Britain's foremost organist and choir-trainer, the late Sir George Thalben-Ball.
Carlo Curley has recorded for RCA 'Red-Seal' and Decca International; his initial recordings for the latter featuring the E M Skinner instrument in the vast chapel of Girard College, Philadelphia - where Carlo himself was appointed to the post of Organist and Choirmaster at the early age of 18. For Decca he has also recorded, both in audio and video, on the four-manual Harrison and Harrison at St Mary Redcliffe in Bristol and on the five-manual van den Heuvel at St Eustache in Paris.
Previous recordings include an RCA 'Red-Seal' album of French organ music, performed on the great organ of the Royal Albert Hall; a recording made at the Alexandra Palace (voted Best of the Month by Stereo Review); and two RCA Bach Albums, the second of which was Record of the Year in Scandinavia. He has also made a series of private recordings for the Sultan of Oman.
His association with the ProArte label has produced The Finest Hour; featuring the superb 'Father' Willis organ at Blenheim Palace - this made at the request of the Duke of Marlborough after Carlo had given the Winston Churchill Memorial Concert there - the premiere CD recording of the Royal Festival Hall organ, Live in Concert; Duelling Organs, a duo album with American theatre organist Lyn Larsen and Amazing Grace, featuring the Grand Rapids Chamber Choir.
Carlo Curley's worldwide press reviews are unstinting in their praise. Not only has he been dubbed 'the Pavarotti of the Organ', he is also said to have 'inherited the mantle of the late Virgil Fox' - high praise indeed.
Carlo Curley welcomes invitations for him to perform from all venues, large and small.